Portugal vs Wales: Real Madrid stars CR7 and Bale face off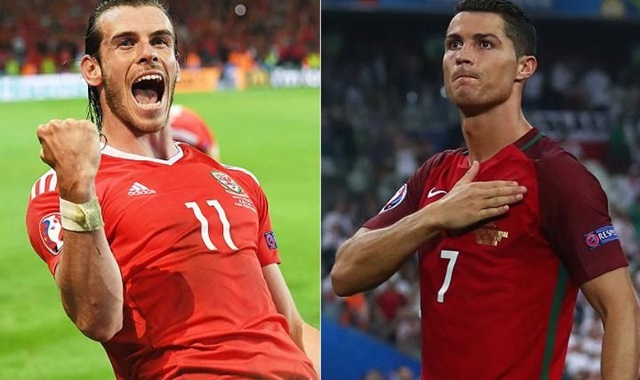 It might be officially billed as Portugal vs. Wales, but all eyes will be firmly on Cristiano Ronaldo and Gareth Bale as the two sides clash at the Stade de Lyon on Wednesday evening.
It's a match that will pit the two Real Madrid superstars against each other. The second-most expensive player of all time squaring off against the most expensive player ever. It has all the makings of an epic showdown between two players who apparently do not get along. And at the end of 90 minutes – or more – Wales or Portugal will have a shot at European glory.
Euro 2016 began with five debutants: Northern Ireland, Slovakia, Wales, Albania, and Iceland. Of those five, only Albania failed to clear the group stages. Slovakia and Northern Ireland managed to get to the round of 16 before losing to Germany and Wales. Iceland, the smallest ever country to feature at a major tournament, shocked England, but were ultimately overpowered 5-2 in the quarter-finals.
Now it's up to Chris Coleman's Wales to represent the new boys on the block. The Dragons have been simply amazing so far at Euro 2016. Despite losing to England, they still topped their group. They showed they can dig deep against teams that park the bus – i.e. Northern Ireland. And they showed that there's more to them than just Gareth Bale.
Belgium came into this tournament as the no. 2 side in the world. At one point, the Red Devils were actually ahead of Argentina, Chile, and Germany – as the top ranked side in football. Certainly, they do possess quite a crop of talented players. But FIFA will want to really rethink that ranking after this competition.
Marc Wilmots's side showed some promise by rebounding after a 2-0 opening loss to Italy. However, no one can really say that Hungary, with 40-year-old sweatpants-wearing cult icon Gabor Kiraly between the posts, are anywhere near a top ten – or even twenty – side. It's not surprising Belgium easily cruised to a 4-0 win over them. When they were next paired with Wales, the overwhelming consensus was that the Dragons' tournament had come to an end.
Well Wales are still in. Belgium are not. The Dragons put in a fantastic performance to beat the Red Devils 3-1, and it was truly a strong team effort. Bale wasn't even on the score-sheet, which made this result even more impressive. In fact, the superstar has not scored since the group stages, further illustrating how well this team works as a unit.
Unfortunately, the win came at a price. Coleman will be missing both Ben Davies and Aaron Ramsey as a result of suspension. Ramsey's absence is especially troubling: he has been directly involved in five out of Wales's eight goals at this tournament.
Meanwhile, if Wales have been impressive – Portugal have yet to really hit top form. Many fans – especially Croatian and Polish ones – will not be happy to see Fernando Santos's men at this juncture. For starters, Portugal have not won any game so far in regulation time. Three games, three draws in the group stages. A late, late goal to dispatch Croatia followed by a shoot-out win over Poland.
But is that just a sign of luck? Or pragmatism? The jury's still out on that one. But one thing is certain – it's worked so far, and no one can begrudge Portugal. After all, let's go back to 2004. Greece played pretty ugly football. They parked the bus, got a lucky goal (mainly headers from corner kicks or set pieces). For their fans, it was awesome. For neutrals and opposing supporters, it was simply aggravating.
But it worked – against all odds, they managed to win the title. So really, Portugal's approach may not win them more fans, but to be fair, one needs to give them credit where it's due. Despite being the better side, Croatia had their chances – numerous ones in fact – and they squandered them. And some players were the biggest culprits of profligacy and general wastefulness before Portugal scored with their only shot on goal.
Poland, however, do have more of a case, as penalties are quite unfair and do not always benefit the better side in the match. In the quarter-finals, Adam Nawalka's men were quite solid, but were unfortunate not to come out on top.
In terms of personnel, William Carvalho will be banned for Portugal. Pepe is in serious doubt due to a thigh strain, but the combative defender should shake it off to resume his normal position in the center of defense.
How do Wales and Portugal stack up? Well, for starters, these two sides have faced each other three times. Goals were aplenty – 11 in total, and the Dragons have yet to keep a clean sheet. Portugal come in to this match having won or drawn their past 12 matches (8 wins, 4 draws). Wales, meanwhile, have only lost two in their past ten.
The pressure is firmly on Portugal, though. Why? Well, they have made 33 appearances so far at Euro tournaments. That is the most ever for any side without winning the trophy. They will be loath to make it 35. In addition, Cristiano Ronaldo has not been at his best and will need to really step up. Having been on the pitch when Portugal were unfortunate to lose to Greece back in 2004, CR7 is running out of time to finally win a title with his nation.
At 31, he will not have a better opportunity than this summer. So, which Real Madrid star will return to Spain with a runners-up – or winners – medal around his neck? Will it be Gareth Bale? Or Cristiano Ronaldo?
Whatever the case, one of these teams could make history this Sunday. It's going to be a semi-final that no one will want to miss.