Real Madrid vs Atletico Madrid: Rematch at the San Siro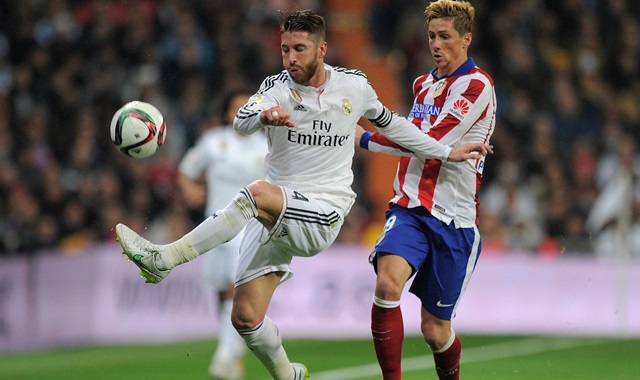 It's going to be a rematch of the 2014 Champions League final as Atletico Madrid and Real Madrid clash at the Stadio San Siro on Saturday evening.
For the second time in three seasons, fans will be viewing a Madrid Derby at the highest level. It is also the third straight season that a La Liga side is in the Champions League final. As is the case with any rematch, there are a slew of fascinating backstories and intrigue behind club football's biggest match, and the 2016 Champions League final certainly is no exception.
As we are all aware, Atletico Madrid have been quietly establishing themselves among Europe's elite over the past few seasons. Under the tutelage of Diego Simeone, Los Rojiblancos finally broke the duopoly Real Madrid and Barcelona had over La Liga when they won the league title in 2014, and made an impressive run all the way to the Champions League final that same year. It was the first appearance for Atletico Madrid in 40 years – four decades prior, they were defeated by Bayern Munich after having to go through a replay.
The 2014 event was the first ever final featuring two teams from the same city. However, it was not the first featuring two Spanish sides. The first was in 2000 between Real Madrid and Valencia. Nor was it the first with two clubs from the same league. In 2013, Bayern Munich defeated Borussia Dortmund in an all German affair at Wembley. And prior to that, there was the Premier League (Manchester United-Chelsea, 2008), and Serie A (Juventus-AC Milan, 2003).
Two years ago, Atletico Madrid were painfully close to winning their first ever Champions League trophy. A first half goal from Diego Godin appeared to be enough to see Simeone's side through. That is, until Real Madrid managed to equalize in stoppage time. And after that, it was game over for Los Rojiblancos. Their resistance appeared to crumble following Gareth Bale's go ahead goal in extra time before things settled as a 4-1 win for Carlo Ancelotti side.
Back then, Simeone's squad did have a whole crop of injuries. Key striker Diego Costa attempted to come back, only to leave the field almost immediately due to a hamstring injury. Arda Turan was another who was not available due to his own injury woes. This time around, Atletico Madrid should arrive in Italy's fashion capital with everyone fit to feature, including veteran midfielder Tiago, who has made his return after a long-term injury layoff.
Simeone has never won a Champions League trophy – whether as a manager or during his playing days. The same, of course, cannot be said of his tactical opponent, Zinedine Zidane. The Frenchman has been a revelation in his debut term as Real Madrid's senior manager, and fans surely will be hoping that he will be given a chance to stay on for the upcoming season.
An excellent winning run in La Liga saw Real Madrid nearly pip Barcelona to the league title. And should he manage to win the Champions League, he will join the likes of Pep Guardiola and Vicente del Bosque to lift the coveted trophy in his first year. However, unlike Atletico Madrid, Real's path to the final has been not the most challenging. For instance, Simeone's side had to take on both Barcelona and Bayern Munich to get to this juncture.
Real Madrid, by contrast, got Roma. The Giallorossi might have been experiencing a mini revival in the league under Luciano Spalletti, but they were the worst performing side out of the final 16. Any Real Madrid fan surely would have done a jig when they saw that pairing. So, not surprisingly, it was the Lupi who were sent packing after the two legs. Certainly, it was not the goal-fest their fans would have wanted, but a 4-0 aggregate win is a perfectly solid and more than acceptable result. Then was Wolfsburg. The Bundesliga side did give them a scare in the first leg. But the general consensus was that it was a one-off incident and things will right themselves once the tie returned to Madrid.
Predictably, it did. So, with the exception of Manchester City, which caused them to labor a bit, and perhaps some slight pressure on them for the second leg versus Wolfsburg, Real Madrid still must be relieved that so far, they have been spared a rougher ride to the final. Nonetheless, they are the most successful side in Europe, with an unprecedented 10 titles and did not arrive here just by sheer luck. Maintaining a clean sheet at home for their entire Champions League campaign is not something to scoff at – especially given that they did play high scoring sides like PSG in the group stage and City in the semi-finals.
That being said, Zidane naturally will be coming into this game knowing that his team will be facing their toughest test since the knockout stages kicked off in February. As such, the news surrounding Cristiano Ronaldo's fitness will naturally be worrying to legions of Real Madrid fans worldwide as everyone is well aware of what the talismanic attacker offers for the group.
At the end of 90 – or perhaps more – minutes, one of these managers will be celebrating his first ever Champions League trophy. Will Simeone, after disappointment in 2014, finally get his hands on the coveted prize? Or will Zidane wrap up an impressive past four months by clinching the biggest title in club football?
MORE: Need matchday tickets? Get all your UEFA Champions League matchday tickets from Guaranteetickets.