Real Madrid vs Bayern Munich: 4 things we learned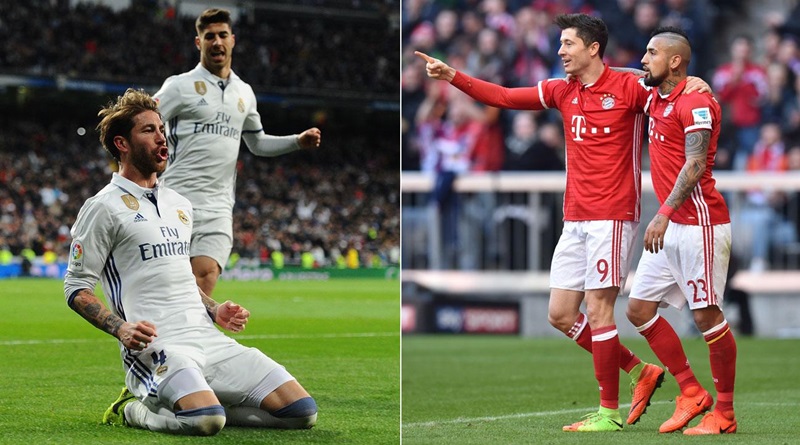 www.si.com
Earlier today, Real Madrid took one step closer towards becoming the first side to defend their Champions League title. Thanks to a 4-2 win on the night, and a 6-3 aggregate win, Los Blancos are just two games away from this season's title in Cardiff. No team has ever managed to win back-to-back titles since the Champions League was re-formatted in 1992, but if any team has a good shot, it's Real Madrid.
The Spanish giants are the only team to have won 11 titles. AC Milan follows in a distant second with seven. And given that the Rossoneri are no where near Europe's elite – and haven't been for years – that gap is set to widen in the next few seasons.
In any case, Zinedine Zidane's side are now in their seventh straight final. The win, of course, was not without its fair share of controversy, and people will be definitely buzzing for the next few days after this result. Here are a few things we learned post the Real Madrid-Bayern Munich tie.
1. Age is not slowing Cristiano Ronaldo down
The Portuguese ace recently celebrated his 32nd birthday this past February, and is well off the pace in the race for the Pichichi prize in LaLiga.
Lionel Messi is bound to scoop up that one. But no matter for the reigning Ballon d'Or winner, as Real Madrid are just  two games away from the final. Furthermore, he is the first player in history to score 100 goals in the Champions League. Having scored five, yes, five out of Real Madrid's six against Bayern Munich, he is also making a good case to clinch the Ballon d'Or next year. And should he lead Los Blancos all the way to the winners' podium – in both Spain and the Champions League – it's hard to find anyone who can challenge him in lifting the coveted prize in January.
2. Bayern's Spanish woes continue
Spanish opponents have become Bayern's nightmare. Last year, it was Atletico Madrid in the semi-finals. The year prior to that, Barcelona. Then Real Madrid. It's inevitable to get to the final that one has to face one of La Liga's main trio, and unfortunately for die Roten, it was again a tie versus Real Madrid.
Los Blancos were the ones to humiliated them 4-0 at the Allianz Arena back in 2014, which remains their worst-ever European home defeat. They were the ones to end a 16-match home winning streak courtesy of – who else – Cristiano Ronaldo's well-taken brace. Unfortunately, there will be no semi's for Carlo Ancelotti's side. Sure, they will win the Bundesliga, but for Bayern, that's a given each season, and so they arguably will definitely be quite disappointed with their European dream end on such a contentious note.
3. Questionable refereeing…
Bayern were really dealt a rough hand by the referee in this game. For the second straight tie, die Roten had to play with ten men. In the first leg, Javi Martinez was sent off under questionable circumstances, whilst this time around, it was Arturo Vidal. Not that Real Madrid need any advantages to
begin with, of course, but anyone will argue that the whole dimension of the match changed post-Vidal's dismissal.
4. …and a clear argument in favor of VAR-technology
Two. Not just one, but two. Two out of Cristiano Ronaldo's goals were offside, and that is something that could have been avoided with VAR technology. So not only were Bayern given the short end of the stick with Vidal's dismissal, but they ended up conceding two goals that really should not have stood.
So, now, Bayern have to contend themselves with a domestic double (a given, pretty much). Meanwhile, Real Madrid will be awaiting the results of their next opponent in the semi-finals, which can be Atletico Madrid (in a re-match of the 2014 and 2016 finals), Juventus, Dortmund, Monaco, or Barcelona (which fans surely will want to see, but they will have to overcome a 3-0 deficit first).
The win may have been under controversial circumstances, and Bayern were unfairly done, but at the end of the day, the result still stands. So far, two Spanish sides have secured their spot in the semi's, meaning that more likely than not, La Liga will have at least one rep in the finals. What's next for reigning champs Real Madrid? We will soon find out after the other two spots are decided tomorrow.