Real Madrid vs Roma: An impossible task for the Giallorossi?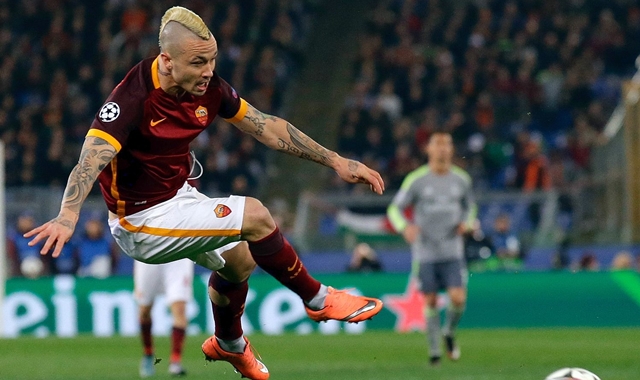 Roma will face an insurmountable task as they travel to the Santiago Bernabeu to face Real Madrid on Tuesday.
Despite putting up a valiant fight, the Giallorossi were eventually overcome by the La Liga powerhouse and now will be coming into this game having lost the first leg 2-0 at the Stadio Olimpico. Whilst it was not the lopsided result many had expected, the loss still has left the Lupi facing what can be best described as a "mission impossible". No team, to date, in the Champions League have ever lost the first leg at home by two goals or more and have come back to progress to the quarter-finals in 97 prior ties.
Still, football indeed is a fickle and unpredictable thing and despite the titanic task ahead, Luciano Spalletti's squad will be giving it their all as they hope to dump the 10-time Champions League winners out of this competition. Should they manage to do the nearly unthinkable, it will certainly be one of the biggest upsets fans have seen. Having won seven consecutive games – including an impressive 4-1 demolition of Fiorentina this past Friday – Roma, despite the titanic task ahead, will be arriving in Madrid full of confidence and hope. And in the absence of expectations, there will be no pressure on the Lupi, who, in all honesty, are expected to see their European ambitions end in the Spanish capital.
Spalletti will be missing the services of several key players for this match. Defender Antonio Rudiger is reportedly suffering from a thigh strain, and midfielder Rajda Nainggolan may be rested due to an ankle problem – especially as the team will be hoping to qualify for the Champions League for next season by finishing in third. Daniele De Rossi is another who will play no part in this fixture, and the Italian tactician will likely field Edin Dzeko up front as a target-man to be supported by the speedy duo of Mohamed Salah and Stephan El Shaarawy.
Meanwhile Zinedine Zidane's side warmed up for this match by cruising to a comfortable 7-1 win over Celta de Vigo to make it a second victory on the trot since losing to Atletico Madrid. Still, Real Madrid are well and out of the La Liga race. That is, unless if Barcelona – who enjoy a comfortable 12 point lead – start dropping points, and given the impressive form of the Blaugrana, that is highly unlikely to happen. As such, the Champions League represents the only theoretical chance the capital outfit have at clinching any silverware this season, but first, of course, they will have to make sure they get the job done to knock Roma out of this competition.

Despite their recent uptick in form in Serie A, Roma have not impressed in the Champions League. They have conceded at least two goals in five out of their past six matches and have only won one out of their past 12 games in European competition. And although Real Madrid will be missing several important faces – namely striker Karim Benzema – they are by far the obvious favorites to progress. With a vital two away goals in hand, Roma will have to score at least twice in Spain, whilst keeping Real Madrid from finding the back of the net, which, in itself is highly unlikely.
All in all, it looks set to be a case of damage control for the Giallorossi. Roma supporters, whilst acknowledging that their team is likely to be on the losing end, will hope it will be a more "respectable" result – like the 2-0 outcome from the first leg – and not a humiliating slaughter like the 7-1 mauling suffered at the hands of Bayern Munich last season.
MORE: Need matchday tickets? Get all your UEFA Champions League matchday tickets from Guaranteetickets.