Real Madrid vs Wolfsburg: The visitors hope to pull off another upset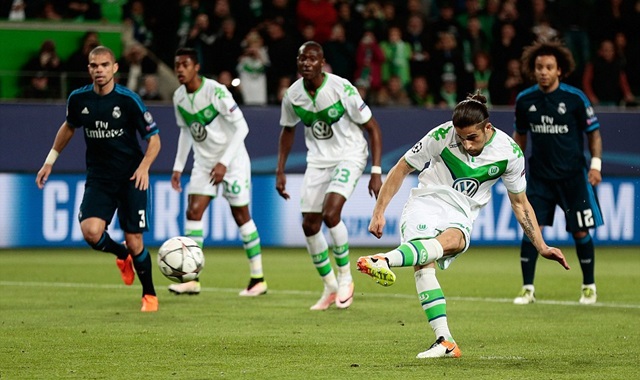 Wolfsburg will be hoping to pull off what will be arguably the biggest shocks of this season's Champions League when they arrive at Real Madrid's home ground on Tuesday.
When this tie between Dieter Hecking's side and the ten-time Champions League winners was initially announced, Wolfsburg – who are in their first ever quarter-finals – were written off from the start. In all honesty, not even the most ardent supporter could have predicted what transpired at the Volkswagen Arena last week. However, ahead of Tuesday's eagerly anticipated clash at the Santiago Bernabéu, it's die Wölfe who so far have one foot in the semi-finals. Not Real Madrid.
For Wolfsburg, who presently sit in a disappointing eighth place in the Bundesliga, European football for next season is not a guarantee. Of course, no one expects them to actually win this season's Champions League, but after their performance last week, they have made it clear that they are not ready to end their European campaign just yet. In this tournament for only the second time since their 2009/2010 debut, just making it to the round of 16 was historic for Wolfsburg. And should they book their spot in the semis – seemingly against all odds – then whatever happens next, their supporters will likely feel that this has been a pretty decent season.
READ ALSO: Manchester City vs PSG: Crunch clash awaits between City and Les Parisiens
After all, once in the semi-finals, there are only two games remaining before the final. Last season, no one expected Juventus to be the ones taking on Barcelona in Berlin, and this is despite the Bianconeri recently re-asserting themselves in Serie A. But Wolfsburg fans are probably not already thinking so far ahead. Unlike Real Madrid supporters, who already were wondering if they would have an "El Clasico" clash in the semis or a re-match of the 2013/2014 Champions League with Bayern, those who rally behind die Wölfe are just taking it one minute at a time.
In the first leg, goals from Ricardo Rodriguez and Maximilian Arnold were enough to send Zinedine Zidane's side back to Madrid with much to mull over for this week. That match was Wolfsburg's fifth against Spanish opposition and ended Real Madrid's unbeaten run in this season's competition. Playing at their home ground, however, is no easy task, especially considering they have yet to lose at the Santiago Bernabéu. Of course, detractors will point out that two of those wins were against Malmö and Roma – a pair of sides that were not expected to trouble them – but after the first leg, Real Madrid will definitely be taking Wolfsburg very seriously.
This is especially considering that last season, they lost to Schalke at home in the round of 16. In fact, Real were nearly knocked out of the competition as Schalke pulled off an impressive 4-3 win, but thanks to their 2-0 away win, they were able to uncomfortably squeeze by to the next round. This time, with arguably the easiest knock-out draws so far, Zidane's side will be loath to suffer another home defeat to Bundesliga opposition and they will be under immense pressure to turn around their two goal deficit. Nonetheless, they do boast one of the strongest line-ups in European football and certainly have the world-class talent available to come out on top; however, should Wolfsburg grab an away goal, the panic level of Real Madrid's legions of fans worldwide will rise exponentially.
Wolfsburg will have quite a few players walking the suspension tightrope for this match. In addition to last week's goalscorer Arnold, Diego Benaglio, Luiz Gustavo, and Vieirinha will all be unavailable for the semi-finals should they pick up another booking. As for Real Madrid, they could be without Danilo, Casemiro, and Sergio Ramos should they turn things around – as is still expected – on home turf.
Real Madrid's "unofficial" newspaper MARCA has been screaming about the epic comeback that is in store for viewers on Tuesday evening since last week. And although the hosts are two goals down, they are nonetheless still the heavy favorites to progress. After all, they are in the quarter-finals for the sixth consecutive season; Wolfsburg are making their debut.
A two goal disadvantage might seem like an insurmountable task for most teams, but Real Madrid, especially at home, are not just any other team. So far, since Zidane arrived on January 4th, they have only failed to score once on home turf. That was against Atletico Madrid in the Madrid Derby on February 27th, when they lost 1-0, which to date, was also their only loss prior to Wednesday's defeat to Wolfsburg.
So will Wolfsburg become the first side in over a month to leave the Santiago Bernabéu – and the first in the Champions League this season – with a win in hand? Or will Real Madrid come roaring back to life to book their spot in the semi-finals?
MORE: Need matchday tickets? Get all your UEFA Champions League matchday tickets from Guaranteetickets.