Roma vs Palermo: No time to mope for the Lupi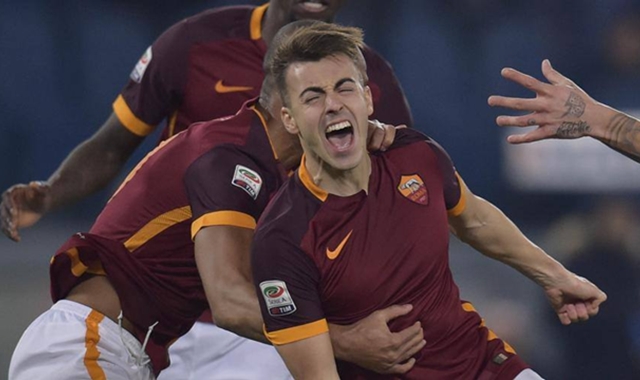 Roma will have to put their disappointing Champions League loss behind them as they resume domestic action in taking on an inconsistent Palermo side at the Stadio Olimpico this Sunday.
The Giallorossi paid the price for their poor performance in the group stages as they were paired with 10-time Champions League winners Real Madrid in the round of 16. As Real Madrid followers crowed in glee, already seeing their side in the quarter-finals, Roma supporters buried their heads in their hands and shuddered with memories of the mauling they suffered at the hands of Bayern Munich last season in Rome still fresh in their minds.
However, the current man in charge, Luciano Spalletti, was at the helm in the 2007/2008 term when the Lupi recorded two out of their three wins against the La Liga giants, so there was some wistful hope that eight years later, that magical night at the Olimpico in which the Giallorossi came from a goal down to pull off a 2-1 win would be repeated. Unfortunately, despite putting up a good fight for nearly an hour, their resistance was finally broken, and having conceded two goals, they will face an impossible task to overturn this tie when they meet Real Madrid next month for the second leg.
To that end, the Lupi quickly need to lick their wounds and move on. Having strung together a four-match winning streak, they will have a good chance to make it five as they take on Palermo later today, a team whose manager has been as inconsistent as their form. Given that the players gave it their all against Real Madrid, Spalletti could opt to give some key players a bit of a much-needed rest, but Daniele De Rossi is reportedly going to be out for another few weeks after re-aggravating his calf injury in the mid-week fixture.
Roma are undefeated in 44 of their last 48 home matches, and could make it 45 today against a team that, due to the presence of their eccentric president Maurizio Zamparini, has again had to suffer the usual managerial merry-go-round. Beppe Iachini has now returned to the bench; this is after Palermo were under the guidance of Davide Ballardini, Fabio Viviani, Giovanni Bosi (twice), Giovanni Tedesco and Guillermo Schelotto. And like a comedy of errors, the last coach, Schelotto could not even legally coach as he lacked the necessary license to manage a senior team.
But all jokes aside, the Rosanero, who sit just four points away from the drop zone, will not be taking their trip up north to Italy's capital lightly, especially given that they have picked up just five points from their last five games and are win-less in their last four. The visitors' cause has not been helped with first-choice goalkeeper Stefano Sorrentino coming down with an injury, meaning that they had to deploy 18-year-old Fabrizio Alastra in their last match against Torino, and whilst the youngster performed admirably, he was unable to prevent the team from slumping to a 3-1 loss.
After their midweek disappointment, this will represent a good chance for Roma to get back on track, especially given that Inter won their match against Sampdoria yesterday to now move into fourth spot. With the Scudetto set to be decided between Juventus and Napoli, the Giallorossi can still make a push for third, which would give them a chance to again try their luck in the Champions League for the 2016/2017 season.
They were expected to lose against Real Madrid, but at least they were not humiliated like how many had predicted, and Spalletti will be hoping his side can take heart from their impressive performance midweek and turn that into a fifth straight win on the trot as they hope to continue their mini-renaissance in Serie A this year.
MORE: You can watch Roma vs Palermo live with FuboTV 24-hour game pass FREE