Seedorf seeks new challenges in Brazil as he pens lucrative deal with Botafogo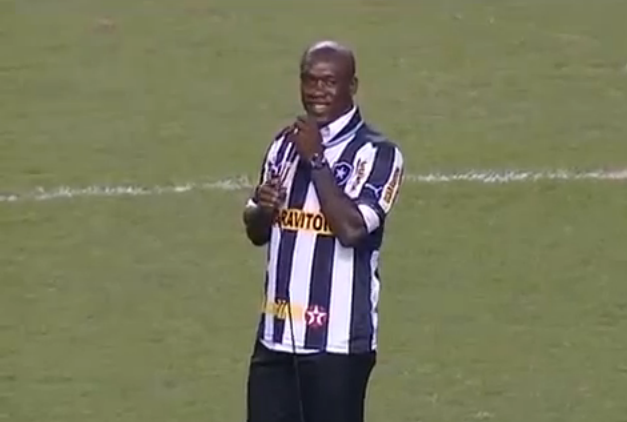 Former Dutch international Clarence Seedorf received a warm welcome from Botafogo last week, as the 36 year old touched down in Brazil to start a two year contract with the club. The former real Madrid and AC Milan midfielder, and one of the most recognisable and respected figures of European soccer, was greeted at Rio de Janeiro airport by a couple of thousand screaming fans. Those welcoming scenes pretty much sum up the stature of the midfield man, as he looks forward to a new challenge and break new ground in South America. He is not there just to coast towards the end of his career, and he is not just there for the money. The quality and dedication that Clarence Seedorf has given to the game, still motivates the man to earn more accolades.
So the Campeonato Brasileiro Serie A is the new home of one of Europe's world class stars. The league is getting a man who has been awarded the UEFA Best Midfielder Award, has made the UEFA Team of the Year on two occasions, and has won five league titles and four Champions League trophies across Europe. Seedorf, who also had a fourteen year international playing career never tasted tournament victory with his country, but was a central figure in Netherlands' 1998 World Cup campaign, and he played in three UEFA European Championship tournaments as well. After Euro 2004, Seedorf was left out of the national side, returning for recall in 2006 for another couple of years, but he missed out on Euro 2008 because of differences with the then Holland manager, Marco van Basten and didn't return to the national set up.
Ajax -(1992-1995)
In the modern game, Seedorf is quite well travelled man, with Botafogo becoming his sixth club through his twenty year playing career. It all started at Dutch side Ajax back in 1992, where, as a teenager, he quickly solidified himself as potential star. Solid, dependable and with drive and quality on the ball, just three years after his début with the Eredivisie side, Seedorf was an integral part of Ajax's suprise 1995 UEFA Champions League triumph. Indeed, it was Seedorf's goal after coming on a substitute in the final, which fired Ajax to a 1-0 victory over AC Milan. It was also during his time at Ajax that he was called up to the Dutch national side for the first time, at the age of 18. He had made rapid steps in a short amount of time.
Sampdoria (1995-1996)
So, already making huge strides in fulfilling talent and reputation, his time at Ajax became the genesis of a very illustrious career. With the success at the Dutch club, Seedorf was propelled to Italy's Serie A with Sampdoria. However, his tenure with Sampdoria lasted just one season as the Blucerchiati failed to impress and could only manage an eighth placed finish in the final league standings. But Seedorf's contributions and midfield quality did not go unnoticed however, as the move which really saw him take on the mantle as one of Europe's best was right around the corner.
Real Madrid (1996-2000)
Spanish giants Real Madrid stepped in for Seedorf's signature, rescuing him from his Italian mediocrity, and arguably it was transfer which really made his career. He wasted no time in becoming the heart of a great team while he was there, snapping up a La Liga title and his second UEFA Champions League honour during his four year spell. It was during his four seasons at the Bernabeu with Real Madrid that perhaps one of biggest measures of his quality was displayed. After a couple of seasons in a Real Madrid shirt, the Spanish side wanted to do a player-trade with Italian side Juventus for one of the greats, Zinidane Zidane. The deal didn't happen, but for a player to get offered on equal terms with Frenchman Zidane, that really should be something to put on your resume. But during the fourth season of his stay with Real Madrid, Seedorf found himself on the sidelines more and more and was then moved back to Italy, with Inter Milan.
Inter Milan (2000-2002)
Those two seasons with Inter proved to be the least profitable in terms of silverware for Seedorf, as he remained without any further silverware during his time there. The closest he came was an appearance in the final of the Coppa Italia, but he, and Inter fell foul of Lazio over two legs there. So after the flood of silverware at Ajax and Real Madrid, the barren period didn't last long, as then came the big Seedorf trade.
AC Milan (2002-2012)
In 2002, Seedorf moved to Inter Milan's rivals AC Milan and his indomitable midfield presence was again crucial as more titles came his way, including two Serie A title and two more Champions League titles. His move to AC Milan saw him find his footballing home for the next decade, and it was perhaps his midfield partnership with the great Kaká that saw Seedorf at the pinnacle of his career. The midfield of AC Milan is where many people will have the fondest memories of Seedorf, always committed and always quality. The Dutch star only once managed to break double figures with goal scored in a season with AC Milan (managing 10 in the 2006/07 season) but he was always the fulcrum of the side. On may 13th, 2012, Seedorf finished his career at the San Siro with a game against Novara and announced a month later that he was leaving the Rossoneri.
Just a week after his press conference stating his departure from AC Milan, Seedorf signed a two year deal with Brazilian side Botafogo. Botafogo are currently inside the top ten in the Brazilian Serie A and therefore, it doesn't seem like a move for Seedorf just to play out his career. The Brazilian top tier has now seen the capture of two of Europe's top names, as Diego Forlan recently signed for Internacional as well, so the league is starting to flex its muscles and competing for senior players from Europe alongside the MLS. Seedorf is the recipient of the most lucrative deal for a foreign national in Brazil's top flight. While his legs may start to betray him, he is still a man in demand. A monetary breakdown prevented a move to the English Premier League with newly promoted West Ham, but now, in South America, there is a new challenge at new level ahead for Seedorf. One at which, no doubt, he will excel.