Slovakia vs England: The battle for top spot is on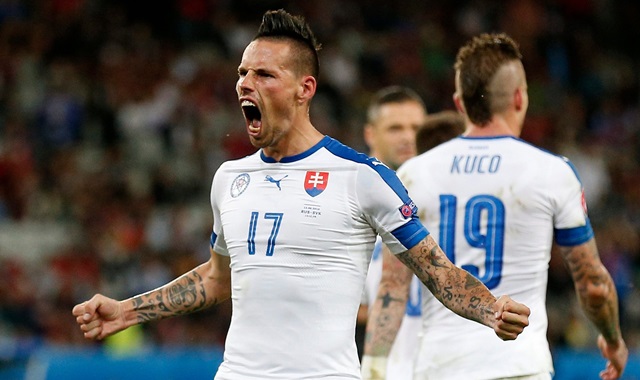 It's going to be a winners-take-all showdown as Slovakia and England clash at the Stade Geoffroy Guichard on Monday.
At the end of matchday one, the Repre and the Three Lions were left bitterly disappointed. Slovakia, in their debut campaign, had been edged out 2-1 by Wales. England, meanwhile, experienced a even worse result. After finally going ahead, Russia managed to pull one back very late on. As a result, Roy Hodgson's men had to settle for a point, rather than sealing a much-needed win.
Had they won, it would have been the first time England had won their Euro opening match in their history. However, at the very least, the Three Lions were able to face Wales with one point in the bank.
And this time, Hodgson got it right. Both Jamie Vardy and Daniel Sturridge, who were not involved against Russia, grabbed a goal each in an inspired showing that will give their manager food for thought. Given that Harry Kane has struggled, and Raheem Sterling has been absolutely awful, don't be surprised to see Hodgson ring the changes for this game.
Although Joe Hart has not covered himself in glory so far, the Manchester City keeper will still be the man between the posts. England come into this game with no injuries. They have the historical advantage over Slovakia – with three wins in their past three meetings.
So is it game, set, and done? Not necessarily. Ján Kozák's side have been slowly growing in confidence. After their 2-1 win against Wales, star man Marek Hamsik was in top form as he single handedly led the Repre to a deserved win against Russia. Slovakia would have watched Wales crumble against the Three Lions, and sit in third on three points. This means that qualification as one of the top two teams is within reach.
In fact, should Slovakia win, and Russia manage to somehow (albeit unlikely) beat Wales, they will top Group B. Kozák will also have everyone of note available, and could use the same starting XI that beat Russia. Hamsik, of course, will need to have one of the best games of his international career as the debutants seek to go as far as feasible.
Will England complete a remarkable turnaround and maintain their unbeaten record against Slovakia? Or will Slovakia finally pick up their first win in what will be their fourth meeting?