Suarez World Cup joy could soon turn to tears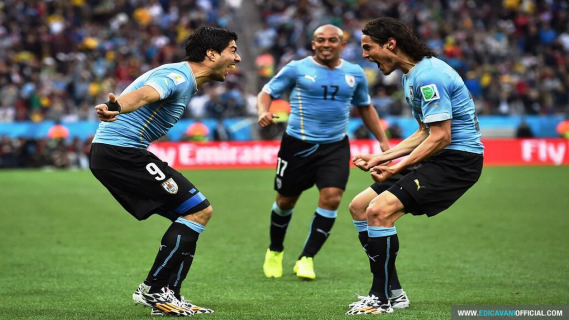 Controversial Liverpool striker Luis Suarez may have had the last laugh on England but his Uruguay side must still beat Italy if they are not to face an early exit.
There had been much speculation about the fitness of Suarez ahead of the crunch game with England on Thursday. He underwent knee surgery only five weeks ago and played no part in Uruguay's opening 3-1 loss to Costa Rica.
With a win paramount against Roy Hodgson's men, Suarez started the match and dumped England out of the tournament with a goal in each half. For England fans it was a bitter pill to swallow. No player has received more column inches in the build-up to the game that Suarez after his successful season in the Premiership.
Last year he received a lengthy ban for biting Chelsea's Branislav Ivanovic during the League clash at Anfield but he bounced back with a superb season for his club side. He formed a lethal partnership with England centre forward Daniel Sturridge but they fell short of the title when letting a three-goal lead slip at Crystal Palace.
Suarez was apparently so distraught that he could not face the cameras at the end of the match and had to be escorted from the field with his face under his shirt. Those amateur dramatics put him right up there with Cristiano Ronaldo and it is going to be interesting to see if the tears will be flowing for both players this week. Portugal opened their World Cup campaign with a disastrous 4-0 defeat against Germany to leave their hopes hanging by a thread.
Suarez cited comments made by England boss Roy Hodgson as having been the inspiration for his two-goals. Hodgson had apparently declined to put Suarez in the same class as Messi and Ronaldo. Most players would take it as a compliment to be mentioned in the same sentence as those two but apparently not the Uruguayan.
Rumours continue to circulate that Suarez could yet leave Anfield this summer with Barcelona and Real Madrid interested in securing the striker. Last summer, Liverpool turned down an offer from Arsenal believed to be in excess of £40 million. His 31 goals last season have now sent his contract release clause up to £68 million. Should he turn his back on Liverpool, it seems safe to say that Suarez shirts will decline in value on Merseyside.