US Men's National Team vs. Venezuela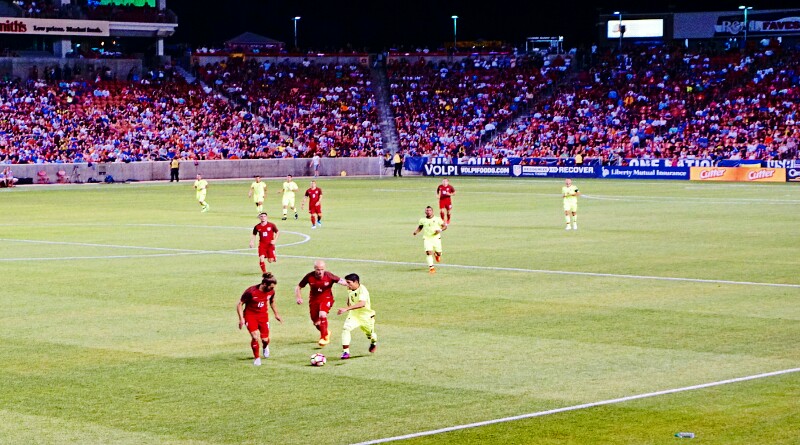 When the United States Men's National Team squared off against Venezuela in a friendly at Rio Tinto Stadium in Sandy, Utah Saturday, it was a match eagerly watched not for its immediate impact—as a friendly, there really is none—but as a predictor of things to come for both national teams. As the game ended in a one-to-one draw, it was not the outcome either team had hoped for, but one which spells a cautionary tale for the US MNT as they come up against World Cup qualifying matches this year. Venezuela is a competent team with dynamic athletes and first-rate play, but that is no excuse for the US men's performance as they will have to face off against just as competent teams in the run-up to the World Cup. Indeed, Venezuela was a perfect example of the types of teams the US will face and the challenges they'll have to overcome. They were not fully able to rise to those challenges Saturday night at Rio Tinto Stadium.
Attending the game, I was impressed with both Rio Tinto Stadium—the home ground of the MSL's Real Salt Lake—and the size of the crowd who came out for the friendly. The stadium was at near-capacity and Venezuela was well-represented by its fans as well as many out to cheer on the US men and plenty wearing the jersey of Real Salt Lake as well. Rio Tinto Stadium, though infamous for nearly not being built and thus almost leading up to Real Salt Lake moving elsewhere, is a fine ground and seemed very well-run for the international friendly. Salt Lake City has been rated as one of the United States' most soccer-loving of communities and it's easy to see how that is true when you attend a game at Rio Tinto Stadium and see it almost full of cheering fans.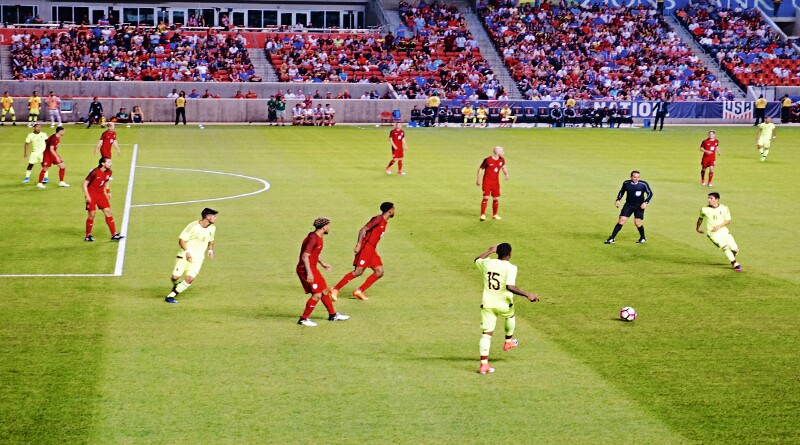 The opening play-making was unsurprising except in the US MNT's seeming hesitation to attempt to score while in contrast the Venezuelan effort was more assured, swift, and defiant. However, the US defense held well, anchored by Tim Howard's steadfast goal-tending which saved—quite literally—the US from a couple brave attempts on goal by Venezuela. Howard's age—he's now 38—has been a concern for some but he has proven time and again that with age comes experience and experience perhaps more than anything else counts in goal. Fabian Johnson and Clint Dempsey both turned in what seemed substandard—or at least not very inspired or dynamic—performances in this match, and the US simply seemed slow and a bit off their footing during the first half. This situation was quickly compounded by Jose Manuel Velazquez scoring off a corner kick in the 29th minute.
As other commentators very quickly noted, there is astute concern over the US MNT's ability to deal with set pieces and in the upcoming World Cup qualifier against Trinidad and Tobago, that will be something to watch—perhaps even something to worry over. US head coach Bruce Arena even acknowledged as much in a half-time interview, which is reassuring to know the coach is working on the same issues we see as fans and analysts. Part of what set up the US for the Velazquez goal however was its initial aggressive but unsure, spirited yet less than organized, offensive posture at the onset of the first half. It was clear the team was not playing in a cohesive manner, that despite innovations by Michael Bradley who played as a defensive midfielder with a deft touch and good foresight, it was just not enough and not the robust effort that would be needed to penetrate the Venezuelan defense.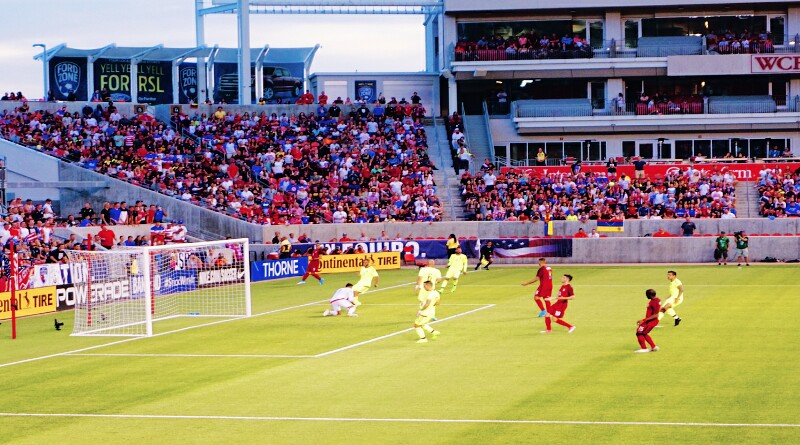 DeAndre Yedlin certainly proved his resolve and the willingness to take chances and lead the US MNT's charge, but Venezuela seemingly was playing a very choice defensive stratagem: once they had their goal in well before the half, they were determined to keep their opponent's pressure down to an ineffective minimum. I did not go into the game thinking of Venezuela as a calculating, defensive, team in their style of play but clearly they can muster that approach when needed. They're also pretty fast and very accurate overall with passing.
One of the beauties of watching any national team is watching the best (or supposed best) a nation can offer on the field. The US MNT was lacking several key players and Bruce Arena should get ample credit for clever, creative—and what we can say were ultimately effective—subs in the second half.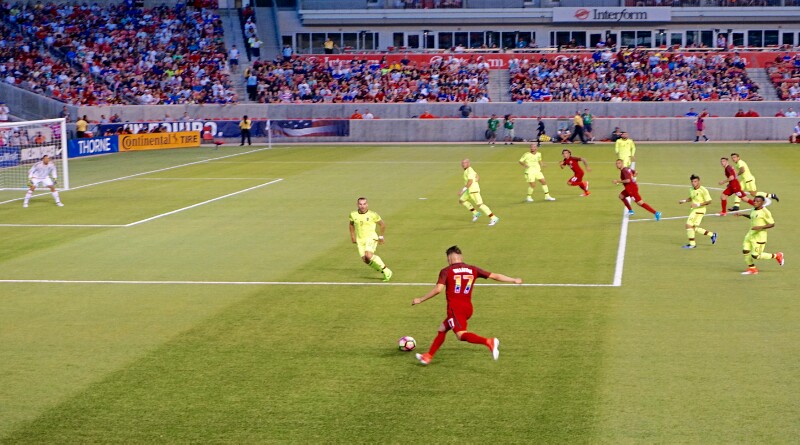 With a goal in, Venezuela however appeared to try a tactic—or else just had a spell of very bad luck and clumsiness—to ensure a victory. Player after player in the second half came down with injuries and while I'm not as skeptical as many fans of on-field injuries, it did seem overdone a bit. For that matter, as loathe as I am to be critical of refs because as a coach myself I know their job is extremely difficult, it seemed the ref in this match was favoring the Venezuelans just a little. Perhaps it was being surrounded by mostly US national team fans, but I felt my whole seating section was gasping with incredulity at the spate of Venezuelan injuries and the ref's apparent attitude towards taking everything at face value. It's possible the on-field injuries were as bad as their dramatics would portend, but color me slightly in disbelief of that. All Venezuela had to really do was to keep the pressure down and deny the US a goal for the second half, and that just nearly happened.
Then in came for the USA Christian Pulisic, wearing the number ten shirt and introducing some of the magic which is quickly earning the teenager not just respect but awe for his performances for Borussia Dortmund and the US National Team alike. In the 61st minute, Pulisic was able to produce a stunning goal for the United States which turned the tide for Venezuela, changing the score to a tie and giving hope to the US of a win. However, despite Pulisic's brilliance the US wasn't able to score another goal nor was Venezuela. Neither team seemed to have the organization necessary to match their drive and desire to get a second goal in and it was clear that both teams had serious drive, serious effort to score but simply foiled by each other's defenses.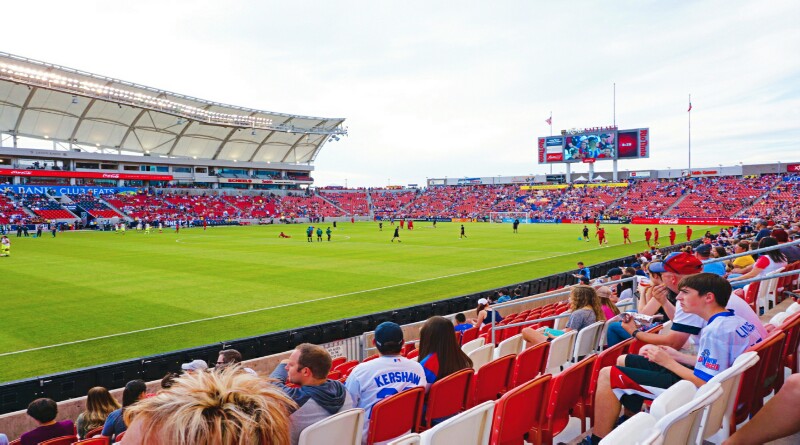 Jefferson Savarino, a new designated player for Real Salt Lake, is also on the Venezuelan national team and was subbed in later in the second half, allowing the home crowd of Real fans to see him in action for his own national team at Rio Tinto—a pretty special treat. Aside from the aforementioned Venezuelan players' injuries, the United States' own John Brooks exited the game with an injury. What his injury and the status of other US MNT players will mean for upcoming qualifiers is yet to be known, but may be of some concern. Bruce Arena seemed acutely aware of his team's deficiencies and one can only hope—at least if one is a fan of the US national team—that they will quickly learn from those errors, most of all the lacking skill in set pieces and the disorganization seen in the first half. Pulisic's goal was what we're coming to expect from the lad at the tender age of eighteen—he can certainly pull off some real wonders and at unexpected moments, making him the sort of player the US very much needs right now. His grandfather was Croatian and the style of Croatian play—brash, brave, attacking midfielders with an expert touch and punchy speed such as the play-making of Dinamo Zagreb wonder Ante Ćorić—is very much evident in how Pulisic moves on the pitch. It's either in Pulisic's blood or otherwise passed down to him and the Croatian spirit shows: He'll be one to watch for sure.
As for Venezuela, their national team represents a nation going through some very trying times currently, but they were all smiles, expectedly knowing the legacy of South American soccer they carry forward and while not bringing home a victory, certainly earning respect as a more than able and thus more than worthy opponent to their American hosts.