Wales vs Slovakia: Two debutants hoping to make history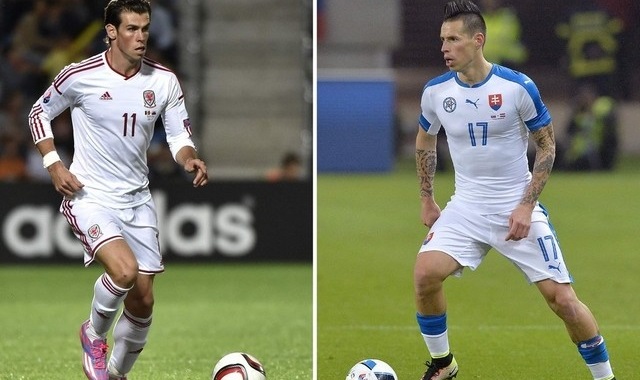 Wales and Slovakia will be hoping to continue on their historic Euro 2016 journey as they clash at the Stade de Bordeaux on Saturday afternoon.
Both sides are featuring in their very first Euro tournament, and in fact are among five teams making their debut in France. And both Wales and Slovakia will be leaning heavily on two star men: Gareth Bale and Marek Hamsik.
For Bale, who recently won his second Champions League trophy in three seasons with Real Madrid, it goes without saying that the 26-year-old is the reason for Wales being in this tournament. The ex-Tottenham man was directly involved in a whopping nine out of his team's 11 goals (seven goals, two assists) in qualifying. And he will be expected to again shoulder the expectations of his nation as Chris Coleman's men attempt to get out of a group which also includes experienced England and potential frustration Russia.
As for Hamsik, the 28-year-old also was instrumental in Slovakia's impressive qualifying campaign. Serie A fans will be well aware of his silky passing skills with Napoli – over the past few years, he has teamed up with top strikers like Edinson Cavani and Gonzalo Higuain. This past season, his excellent performances under current coach Maurizio Sarri were massive in the Partenopei being close to winning their first Scudetto since 1990.
Higuain certainly would not have plundered a whopping 36 goals in the notoriously defensive Italian league sans the Slovak's assistance. And just like he does for Napoli, Hamsik will again be the focal point of Slovakia's attack – just like Bale will be for Wales.
Each team will be coming into this game having experienced different results in their final warm-up friendlies. Slovakia will be riding high on confidence after beating Germany 3-1, although some may point out that it was a weakened side. Wales, by contrast, will have to shake off any jitters after being thumped 3-0 by Sweden, and whilst there are some players in doubt, both managers should have their first choice options available for selection.
Both sides, as noted, are making their bows in this competition, but they are certainly not strangers to each other. And when they have met, there have been goals. Plenty of them. The last meeting (in September 2007) between Wales and Slovakia ended as a 5-2 win in favor of the Dragons. 11 months prior (in October 2006), the Repre hammered them 5-1.
13 goals from just two meetings. Will fans see plenty more in store as both debutants aim to make history?