Watch soccer on the go with FuboTV comprehensive League coverage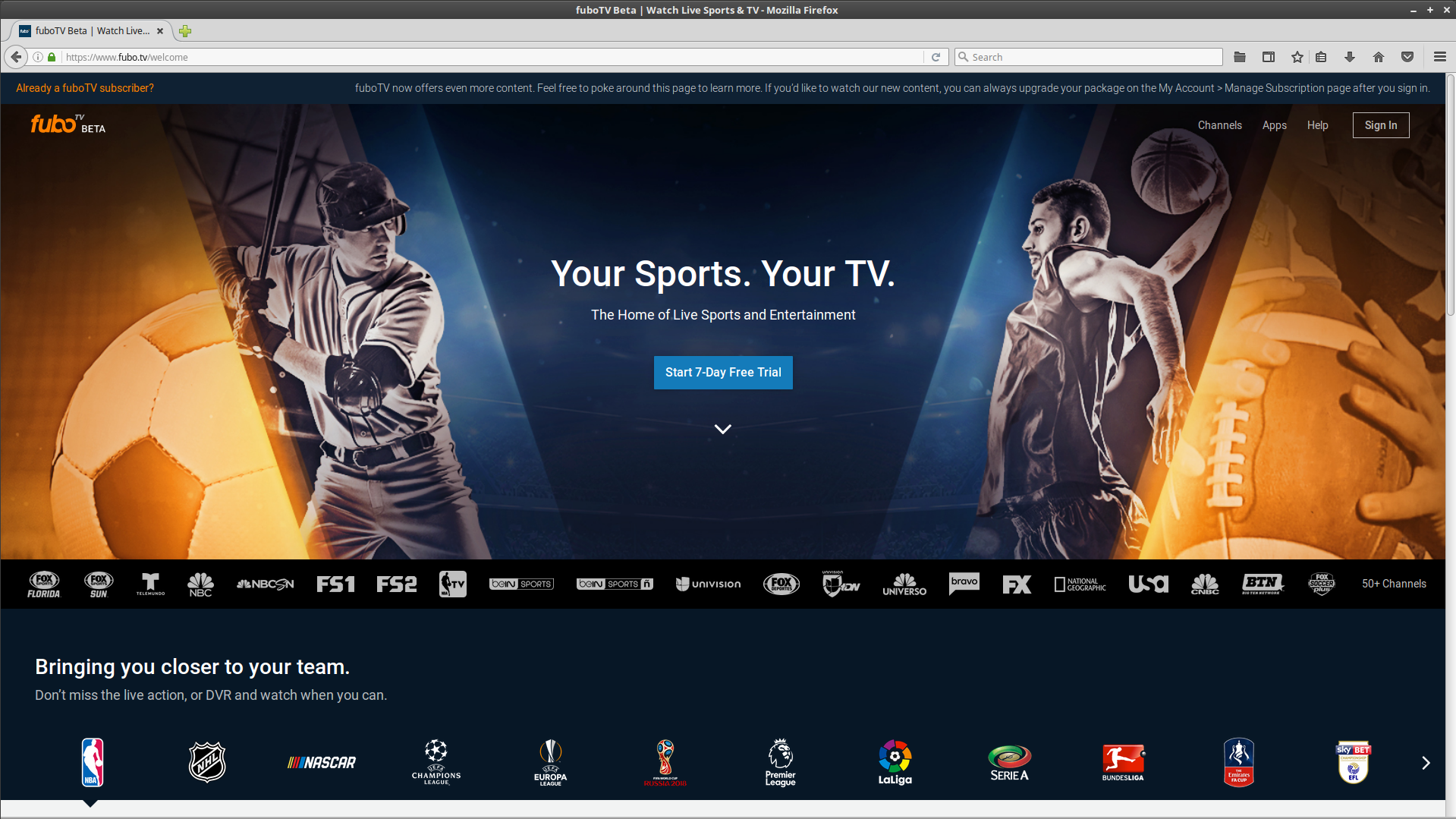 Can't watch your favorite team matches live, not able to watch it from the comfort of your living room space? Then, FuboTV is definitely for you.
With their comprehensive coverage of the world's most popular soccer leagues and tournaments, you'll be right in the thick of things with your favorite team live match-day action on the go, with your mobile phone or from the comfort of your living room couch or computer chair.
If you've been living like a caveman somewhere in the past now is the time to get caught up with technology and take your entertainment to the palm of your hands. Below we put together a list of features, channels, league and tournament FuboTV have to offer that in my opinion rivals any cable sports package out there.
FuboTV Features:
Live Match DVR (Record and watch later)
Pause/rewind live TV
Promotional Offers:
7-Day Free Trial (Require credit card info. No charges if canceled before free trial expires)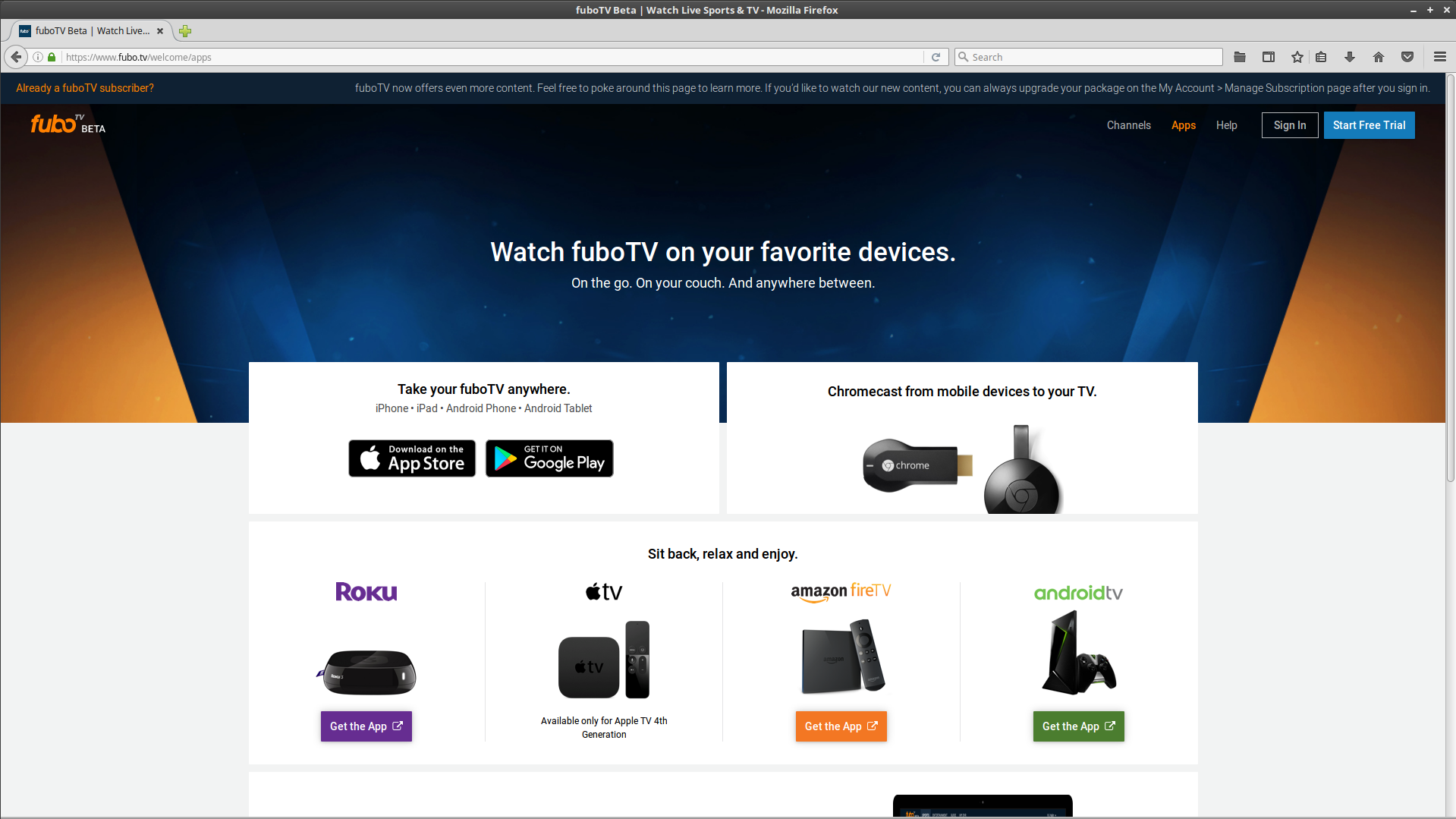 Integrated Apps:
iPhone
iPad
Android Phone
Android Tablet
Chromecast
Amazon FireTV
AndroidTV
Apple TV
Ruku
Channels / Network:
Cut the cables and keep the channels with FuboTV comprehensive list of channels below:
FOX
NBC
NBCSN
Fox Sports 1
Fox Sports 2
Fox Deportes
Fox Soccer Plus
beIN Sports
beIN Sports (CANADA)
Univision Deportes
Premier-League-Extra-Time
Leagues / Tournament:
Watch the best European Leagues and Tournaments  from the list below:
English Premier League
La Liga
UEFA Champions League
UEFA Europa League
Bundesliga
Serie A
Primeira Liga
Swiss Super League
Turkish Super Lig
Ligue 1
MLS
Liga MX
NASL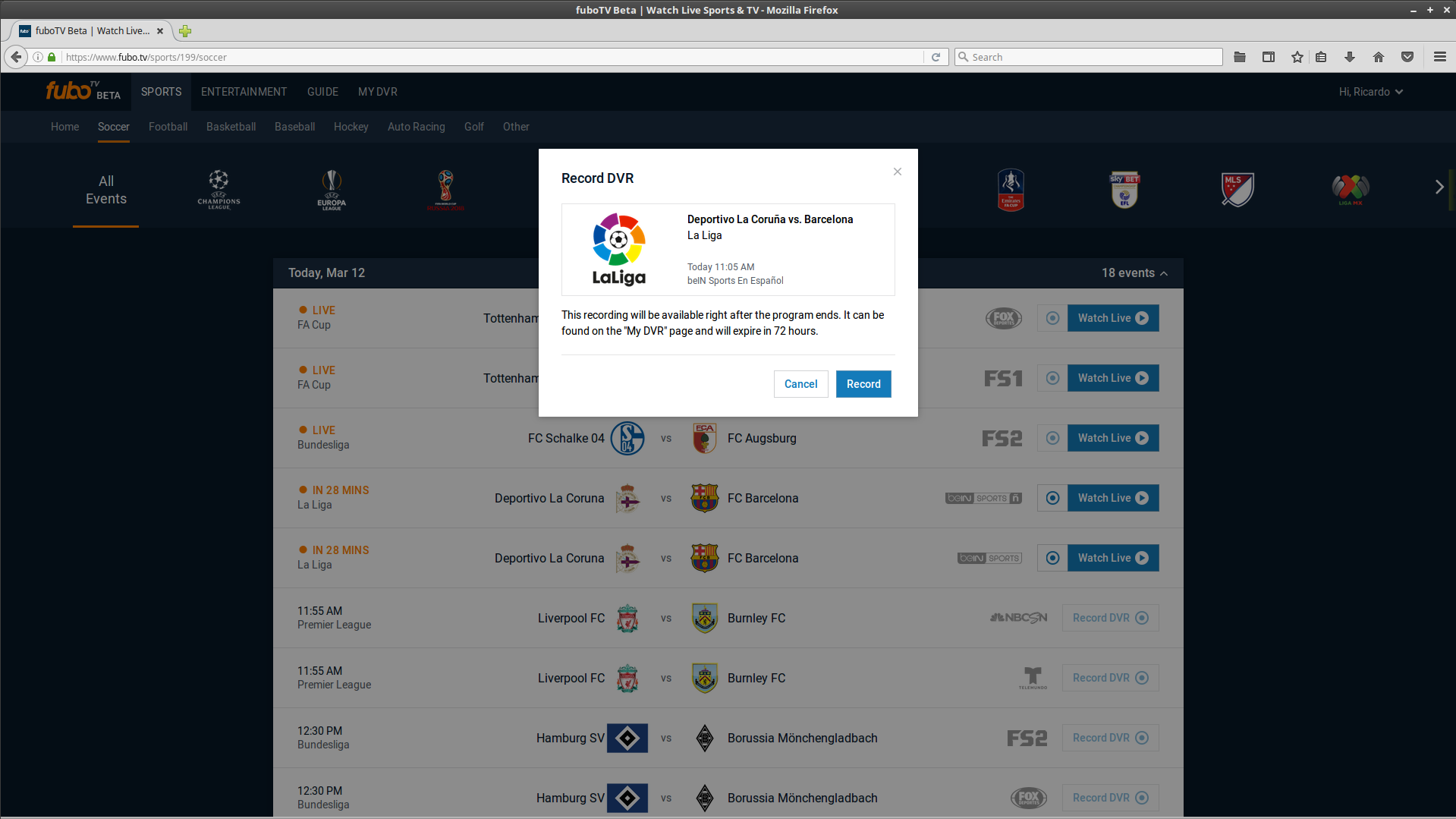 Want More? 
It even gets better for new subscribers as FuboTV re-structuring their Sports Plus package, changing the already competitive intro price of $34.99 to $19.99 per month for the first two months which you can cancel at any time before the regular price of $34.99 starts.
FuboTV has updated the cloud DVR, adding pause/rewind and launched FOX in 49 new markets, which means there is a strong possibility it's available in your area.
You can read about the new FOX markets in this FierceCable article.
What's new in Cloud DVR:
Subscribers now have the ability to record up to 30 hours of programming and save it for an unlimited amount of time – upgraded from the previous "10 slots" that expire after 10 days – as long as they remain an active subscriber.
They've also launched an Advanced DVR add-on, giving subscribers the option to expand their Cloud DVR capacity to 500 hours for an additional $9.99 per month.
Pause/rewind live TV:
Just when you think the list of features is finished it gets even more interesting. They added yet another feature giving viewers the ability to pause a live stream and un-pause to resume is now live on the desktop, mobile web, and iOS. Features allowing viewers to jump/seek from a paused stream to live TV, and to rewind back to where they started watching, are now live on both desktop and mobile web.
Conclusion:
I personally subscribe to FuboTV and I have to admit, it's an extremely amazing feeling to be able to watch live TV on the go and schedule recordings to watch later. I'm sure any soccer fan would appreciate that feature.
Enough of what I think, see for yourself below in the video I screencast using my own account demonstrating how to navigate the dashboard, schedule recordings, pause/rewind and watching live events.