Wolfsburg vs Real Madrid: Welcome to David vs Goliath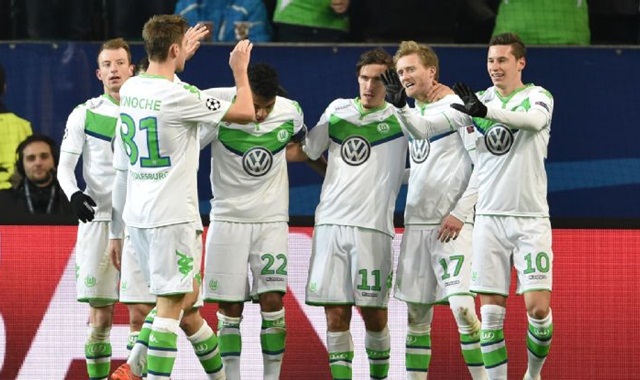 Wolfsburg will face a very tough examination as they welcome Real Madrid to the Volkswagen Arena for part one of their Champions League quarter-finals tie this Wednesday.
Here's a stunning fact: Die Wölfe are in the quarter-finals for their first time in their history. By contrast, making the quarter-finals is almost customary for Real Madrid, who are making their sixth consecutive appearance. Although Wolfsburg finished top of their quartet – which featured Manchester United – they really had to put in 110 per cent against Belgian side Gent. Real Madrid? Well, they received a pretty easy draw – Serie A side Roma – and although the Giallorossi caused a bit of trouble in Madrid, the 10-time Champions League winners dispatched them without much fuss.
Dieter Hecking's men will be coming into this game having suffered a 3-0 defeat to Bayer Leverkusen this past weekend. Zinedine Zidane's side, on the other hand, will arrive at the Volkswagen Arena still celebrating their 2-1 win over Barcelona in Saturday's Clasico tie. Domestically, Wolfsburg sit in eighth place and were dumped out of the DFB-Pokal in the second round by Bayern Munich. As for Real Madrid, well, they're in third and the only reason they are out of the Copa del Rey is due Russian international Denis Cheryshev being allowed to play despite being suspended.
As if that were not bad enough, Wolfsburg are dealing with a major defensive crisis. Star defender Naldo is out for the rest of the season, and the Brazilian's absence has been keenly felt by his side. Another long-term absentee is fellow defender Sebastian Jung, which makes Hecking's task even more difficult. Meanwhile, Zidane has a full-strength line-up to choose from, with only young defender Raphael Varane being in doubt for this match.
Real Madrid also really enjoy playing against German opponents. Not only have they won all four of their past two-legged ties, but they also managed to score 22 goals in the process. Yes, that includes their 5-0 aggregate humiliation of Bayern Munich in the 2013/2014 Champions League semi-finals. So, is there anything that can give Wolfsburg and their fans a bit of hope?
Well, perhaps. For one, keeping clean sheets on the road is something that continues to elude this Zidane-led side. In fact, Real Madrid have only shut out one opponent on the road in their past ten games across all competitions. That, of course, was Roma when they beat the Giallorossi 2-0 at the Stadio Olimpico. Second, although Real Madrid have won their past meetings with German sides, they were given a major fright in last season's round of 16.
After beating Schalke 2-0 in the first leg, perhaps the Spanish side were feeling a bit too overconfident. That is, until die Königsblauen rallied back to pull off an impressive 4-3 win, which nearly knocked them out of the competition. Of course, that was before Keylor Navas became the no. 1 goalkeeper at Real Madrid. With the Costa Rica international in goal, Real Madrid have kept seven clean sheets. The only time they were unable to do this was against Ukrainian outfit Shakhtar Donetsk, in which they shipped three goals – and Navas was not between the posts.
All things being said, this is as clear-cut a David vs. Goliath match-up as we will see so far in this season's Champions League. Real Madrid have had it pretty easy so far – Roma in the round of 16, and now Wolfsburg in the quarter-finals –  so the onus will be on them to book their spot in the semi-finals. So what will Wolfsburg have to play for?
Pride. Even if they, as expected see their European ambitions end, Wolfsburg owe it at least to their fans to put in a good shift over these two legs. At the end of the day, this is football. Strange and unexpected things have happened. And anyone familiar with the Biblical tale knows that, against all odds, David managed to slay the giant Goliath, so really, anything truly is possible.
MORE: Need matchday tickets? Get all your UEFA Champions League matchday tickets from Guaranteetickets.